Serious Fun
Sunday, October 6
Yesterday, on my visit to Ms. Milazzo's sculpture class at Humboldt Secondary School, I was excited to see the progress students were making as they near the end of the project. Many had shifted gears from creating their ofrendas to writing and recording their artist statements to be included in the museum exhibition.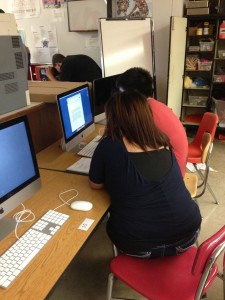 I am also getting to know the students well with my weekly visits, and they've even started to play practical jokes on me. Three students are working together on the ofrenda-in-progress I posted a photo of in my last post.
Yesterday when I visited, their ofrenda was no where in sight and they had turned their attention to other things. I asked them where their ofrenda was, and they told me they'd given up because it was too hard to finish. My heart sank because I'd seen so much potential the week before. I told them I was disappointed and moved on to visit with another student.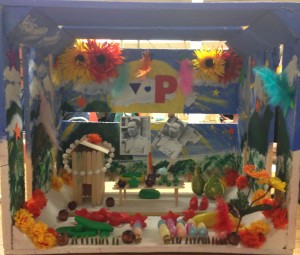 A few minutes later, I heard laughter from the group and they called me back over to show me their finished ofrenda. It's filled with jubilant color and lovingly sculpted animals, people, and buildings situated in a traditional Hmong village setting.
I feel so lucky to get to know the students and learn about their unique perspectives through this project. And, I am glad we can have a little fun together too!