Installation Complete
Thursday, October 24
All 45 ofrendas have found homes on the walls of Gallery 110 in the Minneapolis Institute of Arts and we are thrilled to say that the show is open! With so many different colors, styles and interpretations of the project, the staff had to work hard to create a visual balance between traditional, non-traditional, jam-packed, streamline, bright and subtle ofrendas.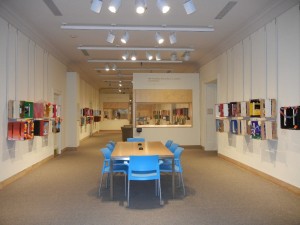 Regardless of the style the artist employed, every offering is beautiful and unique. The MIA is excited for the public to see the Young People's Ofrendas exhibit. Make sure to check out the website here and tour request forms here.
English tours will be offered Tuesdays through Sundays, November 1st through 24th, at 1pm. Spanish tours will be offered Sundays, October 27th, November 10th and November 24th at 2 PM, and Thursdays, November 7th and 14th at 6:30 PM. See you there!