Well Received
Thursday, November 7
Gallery 110 smelled of delicious tamales, guacamole and Day Of The Dead sweet bread from Marissa's Bakery as students and staff from Austin High School, El Colegio High School and Humboldt Secondary School filed into the MIA. The primary reason for their visit was the Young People's Ofrendas exhibit reception, during which museum staff and representatives from our sponsor, Wells Fargo, acknowledged the beautiful works of the student artists. Three students, one from each school, bravely stood before the group of 150 people and discussed their artistic process and the significance of their ofrendas.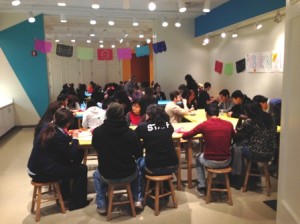 Lunch, catered by La Loma, followed the gallery talks. The studios transformed into dining rooms were silent as students enjoyed the tasty food. Thankfully we didn't run out of food, as the tamales, chips, salsa and guacamole went over exceptionally well! Students left their reception happy and full. Wells Fargo kindly provided gift bags for all of the student participants, and after each group took the time to walk through the MIA's permanent galleries, the buses were on their way back to school.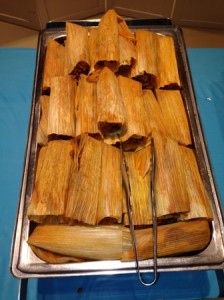 It was an incredibly successful day that hopefully helped the artists to feel appreciated and special. Their work has been so well received here at the MIA, and we were thrilled to have them here to celebrate. Tours are still occurring daily, and everyone who sees the projects appreciates them! The Young People's Ofrendas exhibit will be open through November 24th, so make sure you stop by next time you visit the MIA!