What will you discover in the MIA Library?
From artist catalogues raisonnés to special collections, the vast research treasures in the MIA Library can only be experienced by visiting the museum. Begin by searching our Library catalog. But know that there are hundreds of uncataloged items embedded in the library, "hidden collections" also available to you. Come explore your interests today. The Library is open to the public Tuesdays to Fridays from 11:30 a.m. to 4:30 p.m.
Established with the museum's opening in 1915, the MIA's Art Research & Reference Library is one of the Midwest's premiere research centers dedicated to the study of art. The library's holdings provide special collection and rare printed materials as well as digitized texts/images and cutting-edge online research tools. Spanning the world's history of art, the library's remarkable collection of more than 60,000 volumes continues to grow. Two notable recent acquisitions include Edvard Munch: Complete Paintings—Catalogue Raisonné and Vincent van Gogh: The Letters—The Complete Illustrated and Annotated Edition.
Visitors are welcome to peruse the Library catalogue online prior to their visit.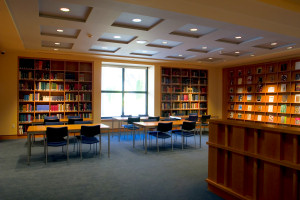 Located on the first floor of the Michael Graves-designed wing, the Art Research and Reference Library is free and open to the public. Library staff members are available to assist with visitors' research needs; they are committed to providing outstanding art information services.
Regular Library hours:
Tuesday – Friday, 11:30 A.M. – 4:30 P.M.
In the Reading Room, visitors may access a wealth of information in a warm, welcoming place. Available materials include reference books, monographs, histories, catalogues raisonnés, oeuvre catalogues, museum collection and exhibition catalogues, commercial gallery catalogues, survey books, and indexes.
Approximately 200 "object files" contain specific information related to works of art in the MIA's collection. The library also maintains approximately 120 subscriptions to leading art periodicals, several online art-information research services, as well as auction sales catalogues from Christie's and Sotheby's auction houses. A computer workstation area and wireless technology in the Reading Room facilitate the easy access of information.
The Reading Room is conveniently located near the Study Rooms of the departments of Photography & New Media and of Prints & Drawings.
Telephone reference assistance is available Tuesday through Friday, 11:30 a.m. – 4:30 p.m. Call (612) 870-3117.
As a member of the Library Affinity Group you will:
- Receive invitations to lectures and events.
- Get the inside scoop on departmental news and acquisitions.
- Enjoy special opportunities to socialize with others who have similar passions.