In consideration of the health and welfare of visitors, volunteers, and staff, Mia is temporarily closed to the public. Learn more here.
Community Events and Programs
Art in the Park
Conducted in close collaboration with the Minneapolis Park and Recreation Board, Art in the Park provides free art programs for youth in the Minneapolis parks.
This summer, look for Mia at Minneapolis Park and Recreation Board festivals and events.
Mobile Mia
Come make art with us! Mobile Mia provides free art activities for all ages in the Minneapolis parks via bicycle all summer long.
This summer, Mia is collaborating with CarryOn Homes at events throughout the community. Click here for more information.
Past Programs:
The Crossover: Basketball + Art, 2017
Students explored the basic elements of art by creating a painting using a basketball backboard as a canvas. This 5-day class was inspired by artworks in the Minneapolis Institute of Art's collection and was taught by Twin Cities aerosol art pioneer Peyton Scott Russell. 
 Presented in partnership with the Minneapolis Park and Recreation Board.
Lake Harriet Kite Festival, 2018
Mia artists joined the fun on the frozen lake.
Water Is Life Posters, 2017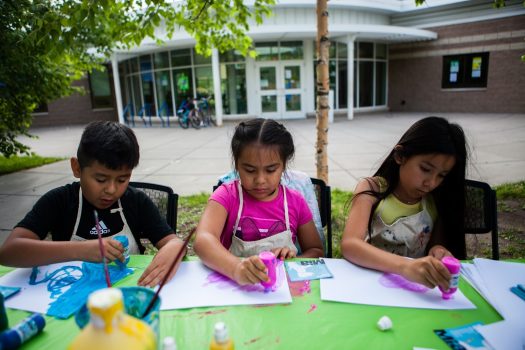 We honored the importance of water in our lives with the help of Spirit Lake Dakota artist Marlena Myles. Student artists created posters using stencils, drawing inspiration from artworks found at Mia and from water itself.