Teen Programs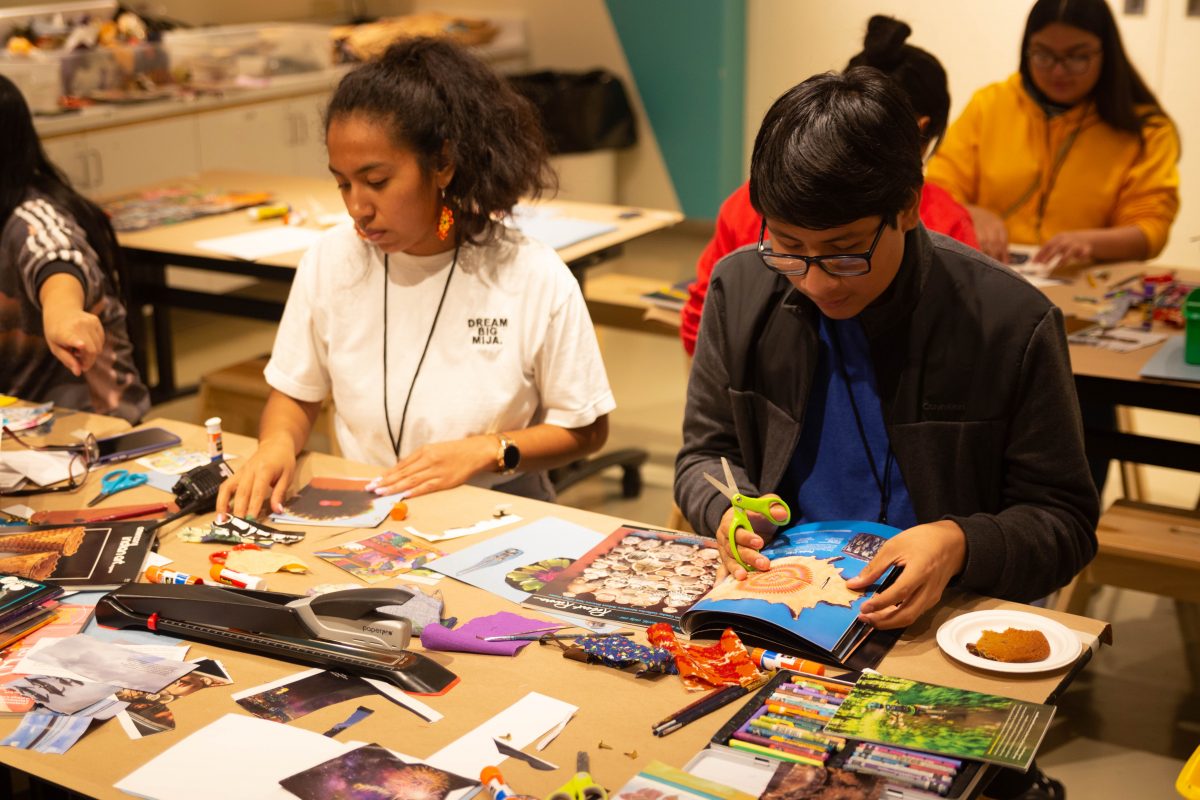 Art Team Exhibition: Challenging Stereotypes
In the Community Commons galley on the first floor at Mia (where the studios are located), visit the exhibition Challenging Stereotypes by Art Team, on view from September 24th, 2020 – January 2021. We hope you will stop by to see these works and critically think through what stereotypes you recognize in our world that need to be challenged. Click here to learn more about this exhibition.
Update from Art Team Since August, we have started our work again supporting Family Day, developing creative opportunities for young people, and growing & connecting as a team. We will have more information about recruiting new Art Team members to our team in the spring of 2021. Due to Covid-19, we are meeting mostly virtually and a couple monthly socially distant small group in-person meetings, navigating all the realities of this time. With all this, we were not able to bring on additional members to the team this year. Thanks to all those that have inquired about this, we look forward to connecting soon. If you would like to be added to our teen programs newsletter and receive updates on Art Team recruitment and other opportunities for teens at Mia, please email cprice@artsmia.org.
Past Teen Programming
Artist in Residence (AiR)
AiR week is a kit-based week of art-making, that includes a couple virtual components participants can engage in from a distance. AiR activities are designed for young people ages 8-19 yrs old.
Watch the video below to learn more about AiR.
Rated T
Designed by teens for teens, Rated T is a free social event focused on creative expression. Rated T is hosted by Mia's Art Team, an active group of teens that support events and participate in & develop creative opportunities. Rated T is an invitation for all teens to hang out, make & appreciate art, and get to know Mia.
Check out photos from past Rated T events here.
Explore Past Teen Programming
Global Youth Exchange
The Global Youth Exchange (GYE) Program was envisioned as a way for Mia to foster greater cultural understanding among ten young people in Minnesota (ages 14–18) and ten young people in Ho Chi Minh City, Vietnam. The program, which ran from January through May 2020, was designed to offer an art-based curriculum and travel experience and then culminate in a group exhibition.
Creative Fuel: A Youth Summit Hosted at Mia
Creative Fuel: A Youth Summit at Mia, was a free day-long event created by youth, for youth—exploring how art and creativity can build empathy and bridges that lead to societal change.