Virtual Family Day: Making Home
Every second Sunday of the month, Mia hosts a free monthly event for families, kids, and the young at heart featuring hands-on art activities, live music, dance performances, artist demonstrations, family tours and more — all inspired by Mia's incredible collection. 
Family Day Major Sponsor:  
Family Day: Making Home
Thank you for joining us for a virtual Family Day! Inspired by the special exhibit "When Home Won't Let You Stay: Art and Migration", this month we're asking: What is a home? And how do you make one?Share stories of migration and home making through art and storytelling.
Greeting
Greetings from CarryOnHomes, a local artist collective dedicated to empowering immigrants and refugees. Their installation "Living Room" in the special exhibit "When Home Won't Let You Stay: Art & Migration" creates a comfortable space for rest and reflections about home, healing, and community found in the experience of local migrants and those living further afield. Watch the video the artists have made for Family Day: Making Home to learn more about their art, have a peek at the artists' own living rooms from around the world, and have a virtual dance party!
Learn more about the special exhibition "When Home Won't Let You Stay: Art and Migration":
Art Activities
Houses of Memory inspired by Do Ho Suh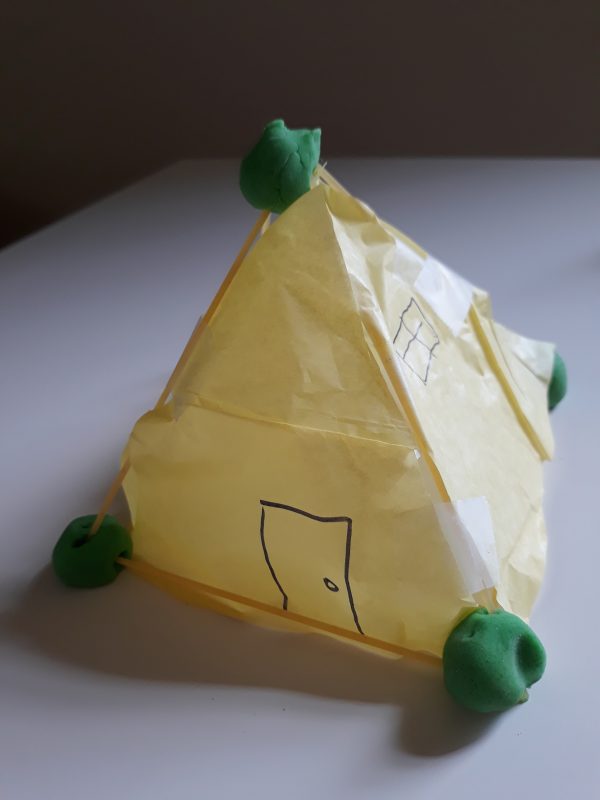 South Korean artist Do Ho Suh has had to move around a lot in his life and leave behind homes that mean a lot to him. To remember and carry with him the memories of these meaningful spaces, he started making large fabric sculptures recreating his former homes -ones large enough for you to walk into like an actual house! Click here to learn more about his art and create your own three-dimensional house using materials from the kitchen.
Making Home
What's a home? What do you need to feel home? Click here for the bilingual art activity with instructions on how to make your own a mini home using an envelope.
Interactive Activities
Bilingual Music Concert: 500 years of Latin American Music by Border CrosSing
Listen to a wide variety of choral music from Latin America spanning over 500 years from the Baroque period to now. Click here for the playlist featuring past performances by BorderCrosSing with commentary by musicians from the choir. Border CrosSing is a local choir organization dedicated to integrating historically-segregated audiences, repertoire, and musicians.
Poetry: "Soy" by Magdalena Kaluza
 Listen to the poem by Magdalena Kaluza entitled "Soy" (I am). You can read the poem in Spanish and English here and be inspired to write your own. Magdalena (she, her) grew up between Guatemala and the Phillips neighborhood in Minneapolis. Her mom and dad helped develop her deep love of plants. Today, Magdalena passes her time going on adventures with her family, fighting for social justice, and getting messy in her garden.
Your Story, Our Story
Back in 2018, Mia and students from LEAP High School collaborated to organize an exhibition of original artworks and stories as part of Your Story, Our Story, presented in partnership with the Tenement Museum in New York City. The national project invites individuals to share their personal stories of American immigration and migration through objects. View the LEAP High School students' stories of immigration in the virtual exhibit here and be inspired to share your own stories of immigration on the Tenement Museum Your Story website here.
Book Recommendations
Click here to check out Mia store's collection of Kids Anti-Racism, Empathy & Inclusion Books to keep learning by reading! Favorite picks by Natalia, Mia's Family Learning Associate are:
Coloring Without Borders by Families Belong Together:

Coloring Without Borders

is the culmination of work from artists all over the world who contributed pieces of art for children to complete. 

The intent is for the coloring book to help children separated from their families at the border to expand their imaginations beyond the walls that confine them, and to be a source of empathy and compassion for families that live free of the struggles that migrant families are enduring. You can download some free coloring pages from the book on the Families Belong Together website.
A Different Pond by Bao Phi:

A Different Pond is an unforgettable story about a simple event- a long-ago fishing trip. Graphic novelist Thi Bui and acclaimed poet Bao Phi deliver a powerful, honest glimpse into a relationship between father and son and between cultures, old and new.

Alma and How She Got Her Name by Juana Martinez-Neal:

What's in a name? For one little girl, her very long name tells the vibrant story of where she came from — and who she may one day be.