Discover the museum with the help of our trained tour guides. Free one-hour public tours are offered daily. Topics range from special exhibitions to treasures of the MIA's permanent collection. Feel free to join the tours at any point, and stay as long as you like.
Tour topics and upcoming Tours of the Month »
Request a tour for a group of 10 or more. Pick from one of our most popular topics or together we can create a tour topic of your own. To get started, call (612) 870-3140.
A tour of 15 people maximum per guide will be charged a fee of $125.  Special Exhibition admission may also apply.
Participate in lively discussions of works of art related to popular books, facilitated by a museum guide.
FREE public tours: Tuesdays at 11:30 a.m. and Thursdays at 6:30 pm. Drop in; no reservation necessary.
NEW Book Lover's private tours: Your group selects the book, day, and time. We customize a tour especially for you. Special rate: $75 for up to 20 people. Call (612) 870-3140.
Book Selections for Public Tours 2014-15
December 
Illuminations: A Novel of Hildegard von Bingen by Mary Sharratt
January
The Lady in Gold: The Extraordinary Tale of Gustav Klimt's Masterpiece by Anne-Marie O'Connor
February
Still Life with Breadcrumbs by Anna Quindlen
March
A Tale for the Time Being by Ruth Ozeki
April
Flight Behavior by Barbara Kingsolver
May
The Thing Around Your Neck by Chimamanda Ngozi Adichie
June
Rebecca by Daphne du Maurier
Download a list of the 2015 book tours »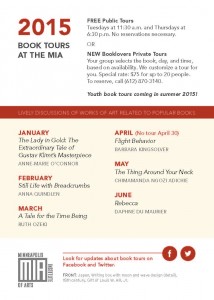 A Feast for the Eyes: Highlights of the MIA's world class collection
Nourish your creativity, spirit, and imagination at the Minneapolis Institute of Arts (MIA). Tempt your artistic taste buds with visual delights from throughout time and around the globe. Learn the fascinating stories of these objects, the artists, and the emotions they evoke.
The MIA, home to one of the finest encyclopedic art collections in the country, houses more than 80,000 works of art representing 5,000 years of world history. Let us create the tasting menu. We'll serve up experiences you've never had in an art museum—and make you hungry for more!
For more information and to reserve this experience, call the MIA tour office: (612) 870-3140.
For printable information about this tour: Experiential Tour (pdf)
Bring your class to the MIA! Learn more or request a tour online.