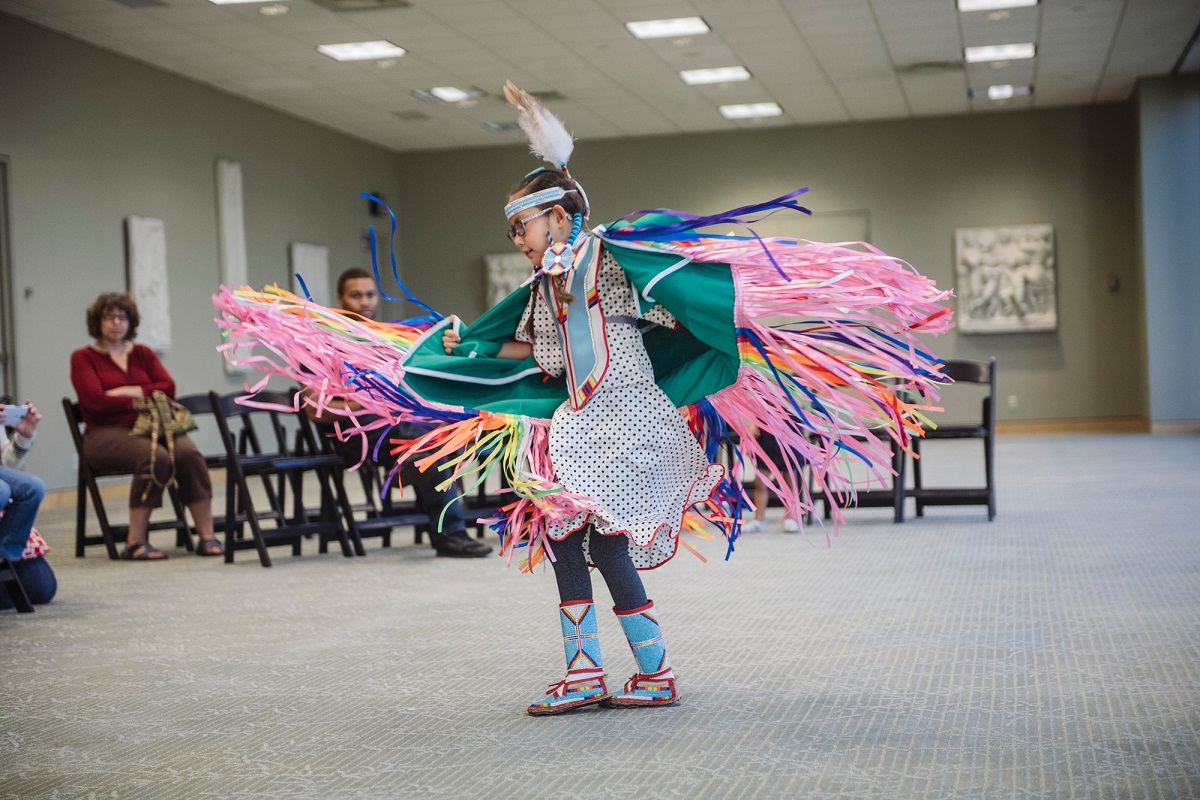 Family Day: Hearts of Our People
Join us for our free monthly event for families, kids, and the young at heart. On the second Sunday of every month, the museum is filled with hands-on art activities, live music, dance performances, artist demonstrations, family tours and more — all inspired by Mia's incredible collection.
Art-making
Flower Magnets
11 AM – 4:30 PM
Studios 111-113, first floor
Decorate a magnet with floral patterns inspired by nature and the artworks by Metis artist Christi Belcourt and Ojibwe artist Natchez Beaulieu.
Art-making
Mixed Media Basket Weaving
11:30 AM – 4:30 PM
Wells Fargo Community Room, first floor
Weave a basket using materials like raffia, yarn, and ribbons.
Gallery Hunt
Native Women Artists
11:30 AM – 4:30 PM
Main lobby, first floor
Find out more about the native women artists who have been making incredible and diverse artworks throughout time.
Artist Demonstration
First Gift Moccasin Making Demo
11 AM – 3 PM
Main Lobby
Observe and learn from the volunteers making moccasins for The First Gift, a program organized by the American Indian community and Children's Minnesota where volunteers make moccasins for Native newborns in the Special Care Nursery and NICU at Children's Hospital.
Artist Demonstration
Kelly Church
1 PM–4 PM
Pillsbury Fountain Court, second floor
Meet artist Kelly Church whose beautiful baskets are featured in the Hearts of Our People exhibit. She will share everything from how she gathers her weaving material to how she weaves her baskets.
Performances
Yellowhouse Dancers
Noon, 1:30 PM, 3 PM
Target Plaza (Target Atrium, first floor in case of rain)
Marvel at performances of various native dance styles from world championship-class Yellowhouse Dancers.
Film
Molly of Denali
Noon, 2 PM, 4 PM
Get the first exclusive view of the new PBS Kids show "Molly of Denali" featuring Molly, an Alaskan Native girl, her dog Suki, and friends Tooey and Trini on their adventures in Alaska.
Workshop
Ojibwe Language and Culture
1 PM, 2 PM, 3 PM
Gallery G261
Join Andrea Fairbanks to learn about Ojibwe language and culture with interactive activities in the galleries.
Preschool Tour
Patterns
11:30AM & 12:30PM, Meet in the main lobby, first floor
Go on a guided tour specially designed for little ones.
Tour
Women In Art
2 PM & 3:30 PM, Meet in the main lobby, first floor
Discover diverse and beautiful art made by women in Mia's galleries, on a guided tour.
Artist Installation
11AM-5PM (weather permitting)
Makhá Wičhóie – Dakhóta Wordscapes by Healing Place Collective
An installation of Minnesota's original language upon the landscape to give guests a deeper connection to the place we all call home; Mnisota, the land where the water reflects the sky.  This installation features large-scaled Dakota words stenciled into the sidewalks with Dakota speakers nearby to engage in conversations about affinity and relatedness to Dakota homeland (Minnesota).
Family Day Major Sponsor: