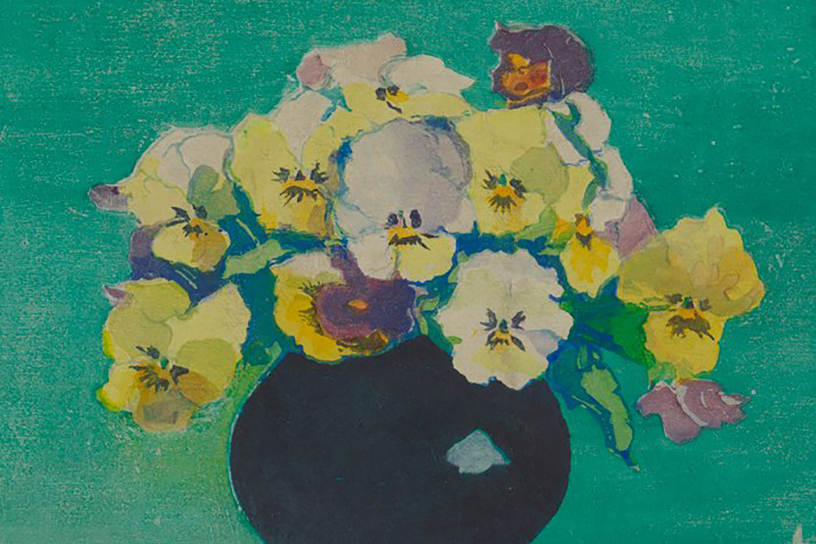 Color Woodcuts in the Arts and Crafts Era
September 14, 2019 - April 5, 2020
Gallery 315 and 316
Free Exhibition
Color woodcuts enjoyed a revival during the Arts and Crafts movement, whose leaders believed that one antidote to rampant mechanization was a return to handcraft. Artists in the early 20th century thus began carving, inking, and printing each impression by hand. Though demanding, this highly personal process revealed the direct interaction between artists and their materials.
This directness is one of the pleasures of the 80 or so color woodcuts in this exhibition. Most were recently acquired by Mia, and most come from the United States, Britain, and German-speaking countries. A remarkable number nearly half are by women.

Color Woodcuts in the Arts and Crafts Era
Inspired by Arts and Crafts ideals, artists in the United States and Europe embraced the color woodcut in the early 1900s. A major influence was the British Arts and Crafts champion and designer William Morris (1834–1896), who believed that the arrival of mass production in the 1800s had sapped human labor of its dignity. He urged a return to an earlier time when people used traditional craft techniques to make things by hand.
Against this backdrop, artists began making color woodcuts like those in this exhibition, filling them with qualities that Arts and Crafts proponents held dear. Such prints involve hand carving. They respect the nature of their materials: wood, paper, and ink. They reveal the direct hand of their maker, perhaps through uneven inking or coarsely cut lines. You'll also notice flat colors, simplified shapes, and motifs from nature. These were characteristics of Japanese prints and printmaking, which had a big impact on many artists in this exhibition.
And yet, artists in different countries approached Arts and Crafts–inspired printmaking differently. British artists were interested in perfecting creative processes. Austrian artists adopted the color woodcut as a fresh, less-refined alternative to the painting styles taught in traditional art schools. And German artists liked subjects that affirmed their cultural identity—which may explain the several German nature scenes in this show. Women artists flourished during the Arts and Crafts era, and a great number of prints in this show—about half—were created by women.
How These Woodcuts Were Made
The handmade quality of color woodcuts results from a knife or chisel slicing into blocks of wood. What's cut away isn't printed; the raised surface that remains is the design.
During the first half of the 1900s—the period covered in this exhibition—many U.S. and European artists developed their techniques by studying Japanese woodblock prints, which were becoming popular outside Japan. The artists represented here typically brushed water-based paint onto the raised design and placed slightly damp paper on top. Color was transferred by rubbing the back of the sheet with a hard object, such as a doorknob or a wooden spoon. A separate block was carved for each color in the image. The paper had to align perfectly on each individual colored block, or the final print would appear blurry and imprecise.
This painstaking process produced a handmade object that was considered authentic and straightforward, qualities with great appeal during the Arts and Crafts era.
Carved into History
Woodcuts on paper date to China around 800 CE. The earliest surviving European woodcuts were made in the early 1400s, in Germany or Austria. An overwhelming number featured Christian religious subjects, printed to aid in worship. Around 1461, woodcuts began to illustrate books. Forty years later, the German artist Albrecht Dürer (1471–1528) elevated the medium to a fine art.
By the mid-1600s, woodcuts had fallen out of fashion among artists and collectors. That century marks the start of the long reign of etching, a printmaking technique using a metal plate. Woodcuts continued to be made, but for more everyday things: playing cards, advertising, book illustrations. As photography took over the role of image reproduction in the late 1800s, woodcut gradually came back into fashion.
A revival of original fine art woodcuts began in France in the 1850s, eventually producing influential works by Paul Gauguin (1848–1903), Edvard Munch (1863–1944), and others. In the early 1900s, spurred by their fascination with Japanese printmaking, more Western artists embraced the natural qualities of wood for creative expression.