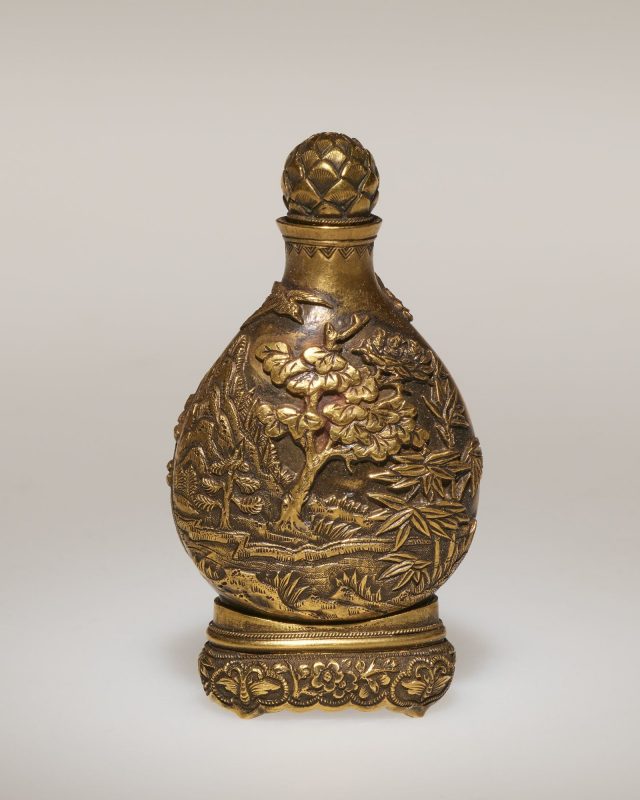 China, Qing dynasty (1644–1911) Snuff bottle, 1756–95 Gold Gift of Mr. and Mrs. Augustus L. Searle, 27.40.21a–c
Worlds in Miniature: Chinese Snuff Bottles from the Minneapolis Institute of Art
September 14, 2019 - June 7, 2020
Gallery 216
Free Exhibition
Snuff is powdered tobacco, which users inhale through their noses. It was introduced into China from Europe in the early 1700s and became widely popular. Storage bottles, often with stoppers ending with spoons to extract the snuff within, soon caught on throughout Chinese society.
Small enough to fit in the palm of your hand, yet often incredibly ornate, Chinese snuff bottles can be marvels of artistic skill. Many bottles are made from materials such as ivory, gold, rhinoceros horn, coral, or semiprecious stones. Many designs are original and compelling, while some draw upon familiar imagery from other genres of art, like painting.
In their appearance and materials, snuff bottles often invoke themes and ideas meant to bring wealth, health, good luck, longevity, and even immortality to their owners—and also communicate their wealth and status.