In consideration of the health and welfare of visitors, volunteers, and staff, Mia is temporarily closed to the public. Learn more here.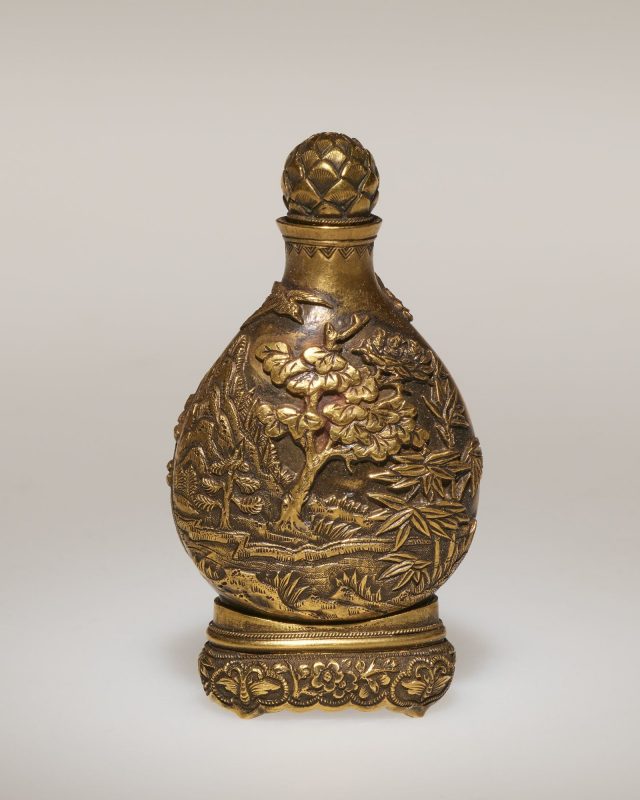 Worlds in Miniature: Chinese Snuff Bottles from the Minneapolis Institute of Art
September 14, 2019 - June 7, 2020
Gallery 216
Free Exhibition
Snuff is powdered tobacco, which users inhale up their noses. It was introduced to China from Europe in the early 1700s and became widely popular. Storage bottles, often with stoppers ending with spoons to extract the snuff within, soon caught on throughout Chinese society.  
Small enough to fit in the palm of your hand, yet often incredibly ornate, Chinese snuff bottles can be marvels of artistic skill. Many bottles are made from materials such as ivory, gold, rhinoceros horn, coral, or semiprecious stones. Many designs were original and compelling, but some draw upon familiar imagery from other—and much larger-scale—genres of art, like painting.  
In their appearance and materials, snuff bottles often invoke themes and ideas meant to bring wealth, health, good luck, longevity, even immortality, to their owners—and also communicate their wealth and status. 
Explore the art in this exhibition from home.
Daoist motifs 
As a philosophy as well as a religion, Daoism focuses on the harmonious relationship between an individual and the natural forces of the universe. Daoist artworks emphasize solitude and withdrawal from societal norms in scenes of hermits and recluses surrounded by nature. Daoist deities, immortals, and philosophers—legendary figures believed to have transcended mortality and to live in an eternal realm—are also popular subjects.  
Buddhist motifs 
Buddhism has informed many aspects of Chinese culture since it was introduced around 100 ce. The examples here show a wide breadth of style and subject on Buddhist themes and motifs. The "16 arhats" motif, a depiction of the 16 legendary disciples of the Buddha, is displayed on two bottles to the right. Look for a porcelain bottle with a Zen Buddhist monk in a loose, abstract style. This illustrates the Zen Buddhist belief that a simple and spontaneous portrayal will capture a subject's true nature.  
Confucianism 
The Confucian school of thought focuses on the strict relationships and hierarchies among people in families and society. Confucian values appear in art through the depiction of scholar-officials and literati, political figures who represent the tiered nature of Confucian society. A few snuff bottles here depict men in official garments carrying out government business. Others show some of the "four pleasures"—plowing, woodcutting, reading, and fishing—emphasizing a Confucian work ethic.  
Beauties 
Depictions of beautiful, well-dressed women is a common theme in Chinese painting and were easily translated into the snuff bottle format. Women are often shown wearing flowing robes and carrying flowers or fans. Some snuff bottles show women surrounded by beautiful gardens such that their beauty seems to be a part of the landscape. In other cases the bottle is carved out of ivory in the shape of a woman dressed in elaborate clothing. Images of female beauty in classical Chinese art are often associated with or evoke the sentiment of love and romance.  
Inspired by literature 
Wealthy, educated Chinese knew Chinese literature so well that single scenes on tiny snuff bottles were enough to represent the moral undertones of an entire work. Several of the snuff bottles here show scenes from popular novels such as Dream of the Red Chamber, Strange Stories from a Chinese Studio, and Romance of Three Kingdoms. Most of these stories featured themes of love, war, history, friendship, and loyalty. Some had mythical elements and focused on interactions between humans and animals.  
Children at play 
Children—usually boys—are common auspicious motifs in Chinese art. These scenes expressed a common social desire at the time for families to have talented, educated sons who would grow up to support their families and continue the patriarchal bloodline. These joyous scenes of childhood also express a sense of peace, harmony, and humor, and the wonders of childhood innocence. 
Landscapes 
Typically rendered in ink on paper, images of landscapes are a fundamental element of Chinese art and consequently were depicted on snuff bottles as well. The artists skillfully captured large elements of nature, like trees, mountains, and sky, on a tiny surface while achieving the philosophical purpose of Chinese landscapes—to show the monumentality of nature as a space for humans to disconnect from societal worries. 
Flowers and birds 
The "flower and bird" motif in Chinese art includes not only depictions of flowers and birds, but also insects, animals, plants, fruits, and scenes of nature in general. They are popular motifs throughout Chinese art because they are often suffused with poetic overtones or imbued with moral, social, or political allusions. The snuff bottles here show a vast array of materials, styles, and subjects, and show how artists could capture nature in countless different ways.  
Crystal and stone 
The snuff bottles in this group were created to maximize the beauty of the stones and crystals from which they were formed. The different patterns, lines, colors, and shapes that occur naturally were purposefully emphasized. Crystals and stones can also have symbolic and philosophical meaning in Chinese culture, in which the work of nature can be more valued than the work of the human hand.  
Western motifs 
These two snuff bottles were probably made for export. The snuff bottle was a Chinese invention, which Europeans, who mainly used snuff boxes,  also grew to desire. These bottles show a typical fusion of Western and Chinese tastes with figures in European clothing, depicted in a European style, but with Chinese decoration around the neck of the bottle and a Chinese landscape in the background.  
Mythical creatures 
The phoenixes and dragons that decorate these bottles are magical creatures that represent imperial authority and good luck. The phoenix represents happiness and was often used as a symbol for the empress and femininity. Phoenixes are commonly depicted next to dragons, which are symbolic of strength and power and are often associated with the emperor and masculinity. 
China, Qing dynasty (1644–1911) Snuff bottle, 1756–95 Gold Gift of Mr. and Mrs. Augustus L. Searle, 27.40.21a–c