Exhibition Preview
This exhibition celebrates the MIA's splendid collection of drawings, watercolors, and pastels. Never before has the museum exhibited such a rich selection of important drawings. Since the MIA opened its doors in 1915, drawings have been a vital element of its holdings, and today there are more than twenty-six hundred sheets. However, because they are fragile and can be damaged by light, they are rarely displayed. Here you will see the cream of the collection.
These works illuminate the fundamental and multifaceted role of drawing through the ages. Artists draw as a means of study, observation, and problem solving, as an outpouring of their imaginations and emotions, and as a method of realizing a finished work of art. The works featured here—ranging from the size of a playing card to the dimensions of a garage door—span six centuries (15th to 21st), come from two continents (Europe and North America), and are executed in a variety of media (chalk, charcoal, graphite, pen and ink, pastel, gouache, watercolor) on paper and parchment.
The exhibition is organized around six themes: (1) the artist as observer, (2) a sense of place, (3) storytelling, (4) from imaginative spark to finished design, (5) imitation/emulation/appropriation, (6) abstraction: transcending experience. This arrangement of a multitude of diverse works is designed to reveal interesting and unexpected connections across time and cultures.
The Herschel V. Jones Print Study Room offers individuals and groups the opportunity to examine up close the exceptional collection of the Department of Prints and Drawings. Study hours, by appointment only, are Tuesday through Friday, 10 A.M. to noon and 1:30 to 4:30 P.M. Please call (612) 870-3105 for more information or to schedule an appointment.
Ludovico Carracci, Italian (Bologna), 1555–1619
Judith Beheading Holofernes, c. 1583–1585
Pen and brown ink, brush and brown wash, squared in black chalk; laid down
Unframed: 9 ¼ x 15 ⅜ in. (23.5 x 39 cm) (sheet)
Bequest of Professor Alfred Moir (2012.58.15)
Egon Schiele, Austrian, 1890–1918
Standing Girl, c. 1910
Conté crayon and tempera wash over black chalk on brown wrapping paper
Unframed: 52 ⅜ x 20 ⅝ in. (133 x 52.4 cm)
The John R. Van Derlip Fund and gift of Dr. Otto Kallir 69.7
Lovis Corinth, German, 1858–1925
Self-Portrait, 1908
Brush and ink, black chalk on gray heavy wove cardboard
Unframed: 27 ⅜ x 23 ¼ in. (69.5 x 59.1 cm) (image)
The Christina N. and Swan J. Turnblad Memorial Fund 62.10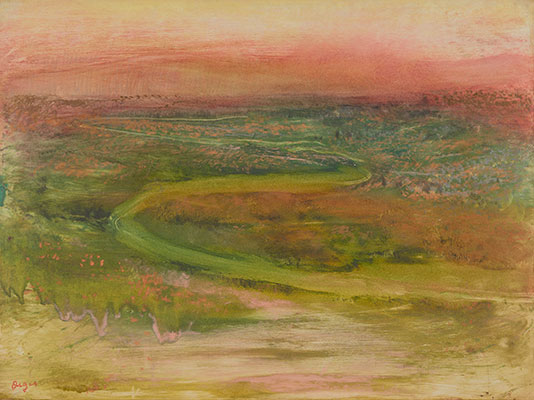 Edgar Degas, French, 1834–1917
Winding River, 1890,
Oil monotype and pastel on heavy paper; laid down on paper-wrapped millboard
Unframed: 11 ⅝ x 15 9/16 in. (29.5 x 39.5 cm)
The John R. Van Derlip Fund 2009.19.1
Guercino (Giovanni Francesco Barbieri), Italian (Bologna), 1591–1666
Hercules, 1641–1642
Pen and brown ink
Unframed: 7 ¼ x 6 ¾ in. (18.3 x 17.2 cm) (sheet)
The John E. Andrus III Endowment Fund, the Driscoll Art Accessions Endowment Fund,
the Winton Jones Endowment Fund for Prints and Drawings, the Richard Lewis Hillstrom Fund,
the Barbara S. Longfellow Fund for Works on Paper, and gift of funds from Chichi Steiner,
the Jacqueline Nolte Jones Foundation, B. Franklin Rassieur, Jr.,
Tom Rassieur, and an anonymous donor (2013.23)
Winslow Homer, American, 1836–1910
The Conch Divers, 1885
Watercolor, blotting, lifting, and scraping, over graphite
Unframed: 13 13/16 x 20 in. (35.1 x 50.8 cm)
The William Hood Dunwoody Fund (15.137)
Ernst Ludwig Kirchner, German, 1880–1938
Seated Woman in the Studio, 1909
Pastel, brush and ink
Unframed: 35 ⅜ x 26 ⅝ in. (89.9 x 67.6 cm) (sheet)
Gift of funds from Mr. and Mrs. Hall James Peterson (67.41)
Amedeo Modigliani, Italian, 1884–1920
Female Bust in Red (detail), 1915
Red gouache and black ink on wove paper
Unframed: 14 x 10 5/16 in. (35.6 x 26.2 cm)
Bequest of Putnam Dana McMillan 61.36.22
Otto Mueller, German, 1874–1930
Two Bathers, 1923
Graphite, watercolor, and two colors of blue chalk
Unframed: 26 ½ x 19 ¾ in. (67.3 x 50.2 cm) (sheet)
Gift of Mr. and Mrs. James T. Wyman (2004.220.1)
Pierre–Paul Prud'hon, French, 1758–1823
Psyche Carried Off by the Zephyrs, 1808 or later
Black and white chalk over graphite on faded blue wove paper, with framing lines in black chalk
Unframed: 11 ⅝ x 9 5/16 in. (29.5 x 23.7 cm) image to framing line; 17 ½ x 12 in.
(44.5 x 30.5 cm) (sheet)
The William Hood Dunwoody Fund (76.78)
Arthur Rackham, British, 1867–1939
Little Red Riding Hood, 1909
Pen and ink with watercolor, on illustration board
Unframed: 11 ⅛ x 7 ⅝ in. (28.3 x 19.4 cm) (sheet)
John DeLaittre Memorial Collection, Gift of funds from Mrs. Horace Ropes (23.50.55)
Pierre–Joseph Redouté, Flemish (active France), 1759–1840
Amaryllis jaune (Yellow Amaryllis), c. 1800–1806
Watercolor and graphite pencil on vellum
Unframed: 18 ½ x 13 ¼ in. (47 x 33.7 cm)
Gift of funds from the Friends of the Institute (91.32)
George Romney, British, 1734–1802
Study for The Lapland Witch, c. 1775–1777
Brush and brown wash, with pen and brown ink over graphite, laid down
Unframed: 19 ⅝ x 11 3/16 in. (49.9 x 30 cm) (sheet)
The John R. Van Derlip Fund (68.51)
Carle Vernet, French, 1758–1836
Charging Hussar on Horseback c. 1805–10
Black and white chalk, brush and gray wash, heightened with white gouache, on blue paper
Unframed: 15 ⅞ x 13 in. (40.3 x 33 cm)
Gift of the Richard Lewis Hillstrom Fund 2005.130
Élisabeth Louise Vigée-LeBrun, French, 1755–1842
View of the Lake of Challes and Mont Blanc, 1807–8
Pastel on blue-green wove paper, two sheets joined; laid down
Unframed: 9 x 13 ⅜ in. (22.9 x 34 cm)
Gift of funds from the Friends of the Institute 2007.51
Mequitta Ahuja, American, born 1976
Tress IV, 2008
Waxy chalk over graphite on paper
Unframed: 96 ½ x 45 im (245.1 x 114.3 cm)
Gift of funds from Sheila Morgan 2010.17