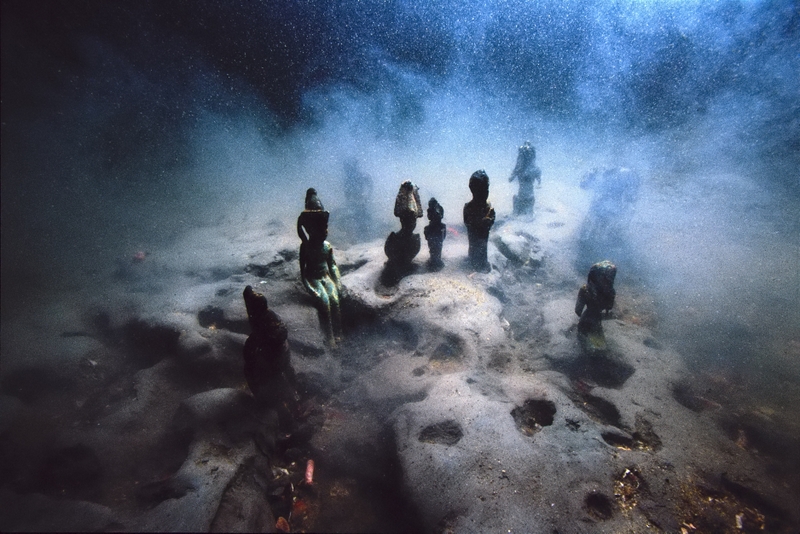 The Osiris Mysteries in Egypt's Sunken Cities: Franck Goddio Talk
Mia's special exhibition "Egypt's Sunken Cities," presented by U.S. Bank, focuses on the discoveries of Franck Goddio, a pioneer of modern maritime archaeology. Goddio will discuss his work in three members-only talks.
Goddio initiated several shipwreck excavations, including of seven junks dating from the 11th to 16th centuries, two Spanish galleons, and two trading vessels of the British East India Company. His most significant project began in 1992, when Goddio's team started its investigation of a portion of Egypt's Bay of Alexandria where he discovered, mapped, and began excavating the ancient Great Port of Alexandria. In 1996 he launched a research mission in Aboukir Bay off the coast of Alexandria. The team of archaeologists, Egyptologists, historians, geologists, geophysicists, and computer engineers made a breakthrough in 2000 when they discovered the submerged ancient city of Thonis-Heracleion and parts of the city of Canopus. Research at those sites continues, and the discoveries there are at the heart of "Egypt's Sunken Cities." The work of the European Institute for Underwater Archaeology in Egypt is performed in close cooperation with the Egyptian Ministry for Antiquities.
Wanderlust and a passion for the sea run in Franck Goddio's veins. He is the grandson of Eric de Bisschop, a navigator and writer who invented the modern catamaran while studying ancient navigational routes in the South Pacific. Goddio dedicated himself to underwater archaeology in the early 1980s and founded the European Institute for Underwater Archaeology, of which he serves as president. He is a visiting professor of Oxford University and the cofounder of the Oxford Centre for Maritime Archaeology.
Free for My Mia members. Tickets available starting Wednesday, October 3.