Van Gogh and the Olive Groves
June 25, 2022 - September 18, 2022
Bell Family Decorative Arts Court
General Admission $16; Investor+ Free; Youth 17 and Under Free
*Buy tickets to "Dressed by Nature" and "Van Gogh" to save 25% on each. Visit both exhibitions at a discounted price.
The olive groves of Saint-Rémy deeply inspired Vincent van Gogh in his last year of life, and the paintings he made of them are among his most moving works. This exhibition unites Mia's own Olive Trees with three more paintings from the series, along with two other Van Gogh landscapes and three works on paper. Highlighting recent scientific research led by the Van Gogh Museum, the exhibition sheds new light on the artist's methods and materials, his passionate investigation of color and line, and his choice of the olive groves as an evocative subject.
Van Gogh created the olive grove paintings between June and December of 1889, during his stay at the psychiatric hospital in Saint-Rémy. Mia recently lent its Olive Trees to a larger exhibition presenting the new research, hosted by the Van Gogh Museum and the Dallas Museum of Art. In turn, these museums offered to lend the five paintings for this exhibition at Mia, an intimate opportunity to explore Van Gogh's extraordinary art and practice.
Learn more about Van Gogh
Touched by Van Gogh: What a newly discovered fingerprint tells us about a Mia masterwork
One-hundred thirty-three years ago, on a day in late November, Vincent van Gogh reached for his freshly painted canvas. It was during his self-imposed stay at a psychiatric hospital in Saint-Rémy-de-Provence, in the south of France, where his windows overlooked a grove of craggy olive trees with a mountainous backdrop…
Bohemian Rhapsody: The Myth of the Starving Artist
Long before Vincent van Gogh died young, poor, and under-appreciated, artists had gotten the message: you have to suffer for your art. But where did this template of the starving artist come from? And is there any truth to it or is it a myth, a romantic misreading of how great art is made?
Inspired by Van Gogh
In 2015, the Minneapolis Institute of Art commissioned renowned crop artist Stan Herd to create a planted version of the beloved van Gogh's Olive Trees painting, featured in Van Gogh and the Olive Trees.
Stop and Chat
July 7 – September 1
Have questions about the exhibition? Guides will be on hand to talk with you before or after your visit. Second floor, under the marble staircase. Tuesdays through Sundays, 1 to 3 pm, and Thursday nights, 6 to 8 pm.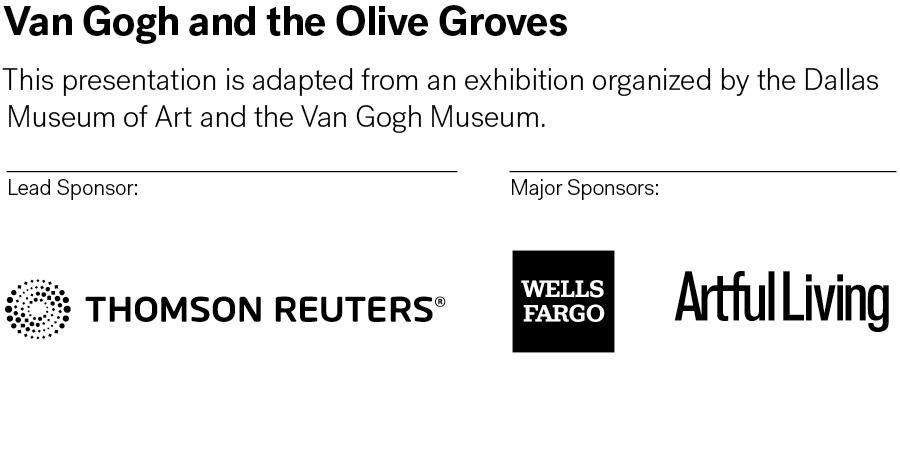 Vincent van Gogh. Olive Grove, June 1889. Oil on canvas. 45.5 cm x 59.1 cm. Van Gogh Museum, Amsterdam (Vincent van Gogh Stichting). s0044V1962.