Virtual Family Day: Black is Beautiful
Every second Sunday of the month, Mia hosts a free monthly event for families, kids, and the young at heart featuring virtual hands-on art activities, music, dance performances, artist demonstrations, and more — all inspired by Mia's incredible collection. 
Family Day Major Sponsor:  
Virtual Family Day: Black is Beautiful
Celebrate Black History Month by learning more about the extraordinary Black artists who created art to document and honor the beauty, struggle, and resilience of Black people. Create portraits of people who inspire you using various techniques drawn from African American artists like Wadsworth Jarrell and Elizabeth Catlett. Watch a shadow-puppet show by local artist and activist Ty Chapman, and make your own shadow puppet. Sing along and hear tales affirming love from Nothando Zulu, founder of the African Storyteller's Alliance, and create your own love letter for Black Lives this Valentine's Day.
Free Family Day Artist Totes
During the Family Day weekend (February 13-14) from 10 a.m. to 2 p.m., you can pick up a free Family Day Artist Tote at Mia's Third Avenue entrance. You'll find materials to make a shadow puppet, colorful portraits, and collages to celebrate Family Day. Family Day Artist Totes are available until supplies last.
The materials in the kit complement the Virtual Family Day program's activities but are not essential to enjoying the activities. Click here to learn more about the items and activities featured in this month's tote.
Closer Look: Black is Beautiful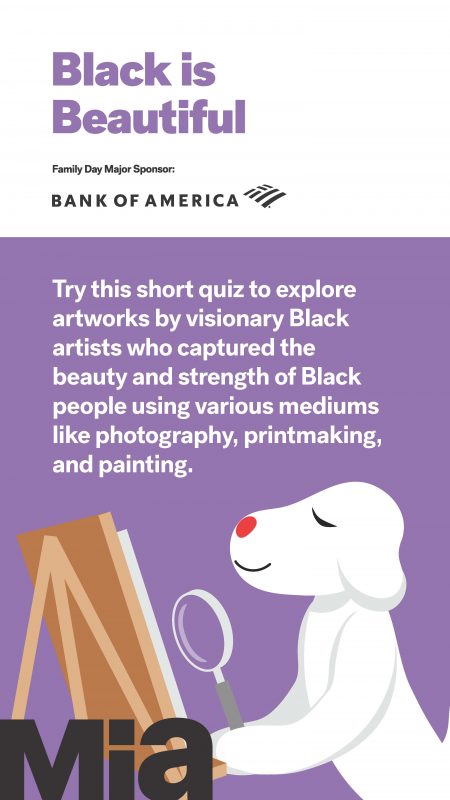 Try this short quiz "Closer Look: Black is Beautiful" to explore the artworks by visionary Black artists who captured the beauty and strength of Black people using various mediums like photography, printmaking, and painting. Click here to view the quiz.
Create a Portrait of a Revolutionary
Art can be a powerful way to honor and draw attention to important ideas and people. Click here for instructions on how to create a portrait of an inspirational figure in your life in the style of Wadsworth Jarrell
Try Line Drawing inspired by "All the People"
Click here for instructions to try a line drawing portrait inspired by the artwork called "All the People" by African American printmaker, sculptor, and painter Elizabeth Catlett. The important part about line drawing is to not take your drawing utensil off the page while drawing the face!
Shadow Puppet Show: The Lonely Half King
Watch The Lonely Half King, a shadow puppet show by Ty Chapman about an outcast searching for a place to belong in the African Savannah. Ty is a Twin Cities based author, poet, puppeteer, and playwright of Nigerian and European descent. He has been creating art with social justice themes for many years, and is passionate about creating art that speaks to the Black experience in America. Visit Tychapman.org for updates on his art, or to follow him on Twitter or Instagram.
Click here for instructions on how to make a shadow puppet using simple materials like paper, popsicle sticks, and paper fasteners.
Love Letters for Black Lives
How did the Black Lives Matter movement start? With a love letter: "We need to love ourselves and fight for a world where Black lives matter," Alicia Garza wrote on her Facebook page one night, after a man who admitted shooting and killing a Black boy named Trayvon Martin was allowed to go free. "Black people, I love you. I love us. We matter." Love letters for justice can do powerful things.
In June 2020, when Minneapolis was grieving from the tragic loss of George Floyd, families from around the US sent love letters to Minneapolis affirming Black Lives. The action was called "To Minneapolis With Love: #LoveLetters4BlackLives" and was coordinated by five family-centered racial justice organizations and networks that include: Wee The People, Philly Children's Movement, Revolutionary Humans, MassArt's Center for Art and Community Partnerships, and Raising Luminaries.
It is important for everyone no matter their age to continue to learn about racial justice and share love for Black Lives everyday. Watch the video to see a small selection of some of the beautiful letters received and be inspired to create your own Love Letter for Black Lives. Click here for more resources on how to guide your family conversations and actions about racial justice.
We encourage you to follow the organizations mentioned above online to learn more about how you can get involved locking arms with families and activists around the world in the fight for racial justice.