Virtual Family Day: Open Books, Open Hearts
Every second Sunday of the month, Mia hosts a free monthly event for families, kids, and the young at heart featuring hands-on art activities, live music, dance performances, artist demonstrations, family tours and more — all inspired by Mia's incredible collection. 
Family Day Major Sponsor: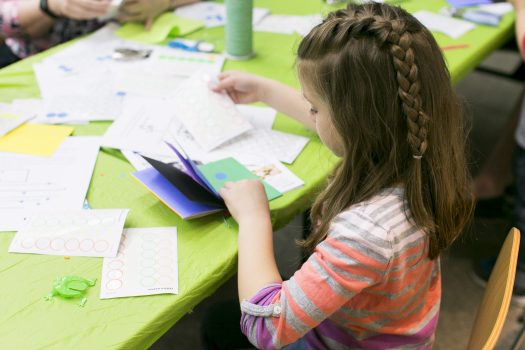 Family Day: Open Books, Open Hearts
Thank you for joining us for a virtual Family Day! Celebrate National Book Lovers Day on August 9th by joining virtual Family Day: Open Books Open Hearts. Fall in love with books of all kinds listening to stories by local authors and artists, making your own book and printmaking, and watching a virtual puppet show featuring a huge pop up book!
Greeting
"Things around us are alive just like the books. Look closer and you are sure to find a story everywhere!" says Chappal, a talking ethnic slipper from the Indian subcontinent. Watch the video to find out what Chappal experienced and thought of while recently visiting Mia.
The animation is created by Roshan Ganu, a storyteller and an experimental visual artist who uses different mediums to tell stories about our everyday lives. Check out the website www.roshanganu.com to learn more about the artist or follow her on her Instagram @Blingalingthoughts.
Interactive Activities
Free Family Day Artist Totes
For those who had a chance to pick up this month's free Family Day Artist Tote, we hope you enjoy it! The materials in the kit complement the program's activities but are not essential to enjoying the activities.
Make Your Own Book and Stamp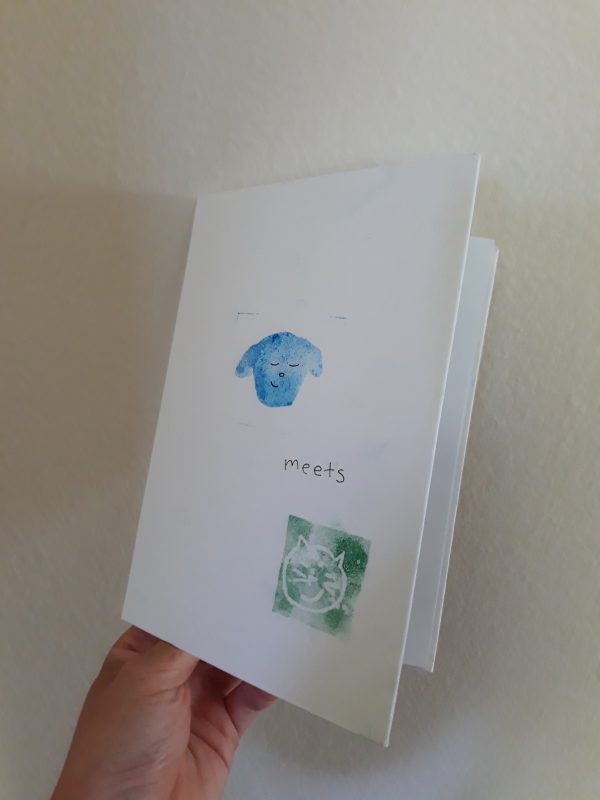 Click here for instructions on how to make your own book and try printmaking with a homemade stamp! The activity requires simple art materials which you can find in the Family Day Artist Tote or by recycling and digging around your home for some paper, ink pad, and foam stickers or Styrofoam!
Story Challenge
Why is the monkey jumping into a waterfall? What happened before and after this moment? Draw and write a story inspired by this woodblock print titled "A Monkey Jumps into a Waterfall" by the Japanese artist Tsukioka Yoshitoshi. If you'd like, click here to download and use a template to help you imagine the story. Send your story to familyprograms@artsmia.orgfor a chance to win a free book from the Mia gift shop!
Learn more about the artist visiting the free exhibit Yoshitoshi: Master Draftsman Transformed in person at Mia or exploring virtually by clicking here. Click the image above for a close-up look. But spoiler alert, the story depicted in the artwork can be read in the description.
Pop-up Books!
Did you know that a pop up book can function as the backdrop for a puppet show? Get a close-up look at the amazingly huge pop-up book made for the piece How to be Lonely by Minneapolis-based puppeteer Karly Bergmann. How To Be Lonely, is a pop-up book about the end of the world. The puppets that inhabit this paper world tell the story of The Last Living Person and his encounter with Skeleton Woman.
Feeling inspired to make your own pop-up scene? Watch the Minnesota Center for Book Arts' Virtual Fold-Along video tutorial above to make your own pop-up card. Visit mnbookarts.org for more video tutorials and virtual workshops!
Hennepin Library Virtual Storytime
Sing and read along with Ms. Jessica from the Hennepin County Library to celebrate National Book Lovers Day! Ms. Jessica reads two stories "Lola Loves Stories" by Anna McQuinn and "Please, Puppy, Please" by Spike Lee and Tonya Lee.
For more storytimes and activities, check out the Hennepin County Library Facebook page or YouTube page for their regular early learning programs. Also, visit hclib.org for the latest information about library services.
Book Recommendations
With books, with reading… you can dream dreams and you can stand up and speak up and speak out and be inspired by texts or by words," said the late Representative John Lewis, a life-long Civil Rights movement activist and Congressman for Georgia's 5th Congressional District.
Celebrate his life and legacy reading and learning more about John Lewis and the Civil Rights Movement.
For younger children (age 5+) Preaching to the Chickens: The Story of Young John Lewis by Jabari Asim, and illustrated by E.B. Lewis, offers a glimpse into John Lewis' childhood and how he found his passion for advocating for justice.
For older children (grades 8 +) March, a graphic novel series written by John Lewis in collaboration with writer Andrew Aydin and illustrator Nate Powell, offers a first-hand account about John Lewis' lifelong struggle for civil and human rights.